Amuro
Amuro is a beautiful uninhabited island approximately 5 minutes by boat from Zamami Island. The sandy beach on the island brings across the atmosphere of a private resort. It is an ideal snorkeling spot, and visitors can enjoy a breathtaking panoramic view of the coral reefs.
Amuro Is. is in 1.3 kilometers southeast of Zamami Island. It has about 5.2 kilometers around, 0.62 square kilometers in area and 99 meters above the sea level. It is surrounded by atolls and Himehabus live on it. It has a coral sandy beach in the east and communities of Adan or Kusatobera along the coast. After the Pacific War people from Kerama Is. cultivated sweet potatoes and grazed cattles.
Nature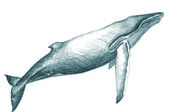 Whales
- articles about whales behavior, migrations and watching tips.
Insects
Plants